Orchestra School of Central Ohio is a new kind of orchestra designed especially for the needs of home school students and community musicians who love learning. The orchestra meets during the daytime, one day each week throughout the school year.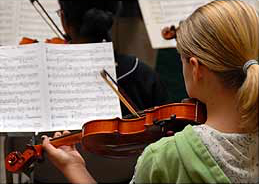 Orchestra School combines the best features of high school, youth and community orchestras. Our focus is education. Led by an experienced music educator and symphony musician, our students learn the art of orchestral playing, while rehearsing and playing in a welcoming, multi-generational environment.

Our mission is to help you grow as a musician, in an orchestral setting.
During weekly classes (rehearsals) you will learn many skills, including how to play in a large ensemble, performance styles, balancing sound, sight reading, and how to break down your part for efficient practicing. Most of the class time will be spent playing, and we will perform regularly, but performance is not the primary focus. Educational growth is our goal!
Contact us today to express your interest or ask any questions.